Current Positions Available:  Please Click Here!

Patriot Subaru was founded in Saco, Maine, November 2003, and today is one of the top Subaru dealers in the country.
Pretty impressive knowing there are over 600 Subaru stores, and Saco, Maine is one of the smaller markets. Success like this takes the dedication of everyone on the team working together.
Our North Attleboro, MA store opened in July 2014, and the bar is set high. But that's how we like it!

Patriot strives to employ a highly diverse staff that represents the southern Massachusetts and Rhode Island community. We make every effort to recruit exceptional people in all walks of life. If you have a high motor, a willingness to work effectively and efficiently,  an ability to hold yourself accountable to give your best effort everyday, then you're the kind of person who has we want on-board to continue our track record of success.

A car dealership is a busy place, and at Patriot Subaru, the associates are provided with an array of benefits that helps create a positive work environment. Traditional benefits are combined with new programs. From health and wellness to involvement in the community, Patriot encourages all team members to balance their working life with personal needs.  Here are some examples:

Associate Pricing
Patriot Subaru offers associates huge discounts combined with the associate purchase program at Subaru of America, this allows our associates to purchase new Subaru vehicles at below net cost. Additionally preowned vehicles, parts and service carry associate discounts.
Patriot Subaru also offers a wide variety of traditional benefits, including:
Medical insurance (paid by Patriot Subaru for all full time associates)
Dental insurance (paid by Patriot Subaru for all full time associates)
Vision insurance (paid by Patriot Subaru for all full time associates)
Long-term care insurance
Life insurance
Accidental death and dismemberment insurance
Short- and long-term disability insurance
Medical and dependent care reimbursement accounts
401K retirement savings account (with matching contributions)
Flexible work arrangements
Paid vacations and holidays
Payment/reimbursement for all training and training related expenses for job enhancement or skills training.

Compensation for missed time while at training seminars.

Useful Amenities
Free coffee, tea, and spring water

. Helping to keep our employees healthy is a big part of our mission, so we offer a large selection on a weekly basis.

Discount at retail partners throughout the community.

All employees receive access to Patriot Subaru's discount at many of our vendors.
5-10% discount on technology purchases through Dell Computer and CDW.

Bicycle programs
Ride Sharing
Saturday Lunch / BBQ


Participation in community events at the store, such as Red Cross blood drives and

Pet Adoption Days.

Patriot Subaru's "Green Team" is responsible for overseeing the company's commitment to recycling, reducing energy,and being responsible environmental citizens.

If you are interested in being a part of our team, we encourage you to learn more about job openings and opportunities. Call us toll-free at 1-(844) 972-8746, and talk to us about current opportunities, or email us at
jobs@patriotsubaru.com.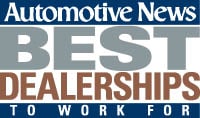 Patriot Subaru in Saco, ME has earned the distinction of being ranked the past six consecutive years as a top 100 Best Dealerships to Work For in the United States, 2012-2017.  Automotive News, the authoritative print and online publication that provides in-depth coverage of the auto industry, partnered with the independent Best Companies Group of Harrisburg, Pennsylvania to conduct the program. We are very proud of this honor, and very proud of the people who make it work everyday by giving their very best.