The 2021 Subaru Love Promise Customer and Community Commitment Award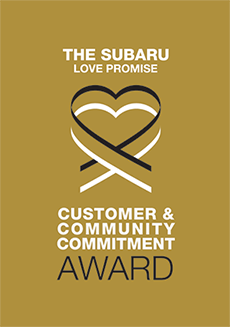 We've been nationally recognized for our dedication to our customers, our community, and the Subaru Love Promise.
We're honored to receive the 2021 Subaru Love Promise Customer and Community Commitment Award. This award nationally recognizes elite Subaru retailers who provide an exceptional customer experience at every interaction with Subaru. These retailers have also demonstrated an outstanding commitment to supporting passions and causes in their local communities in important areas such as the environment, community, health, education, and pets.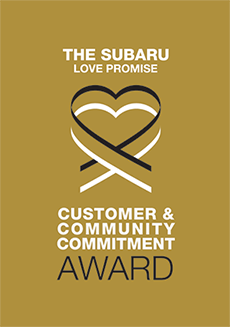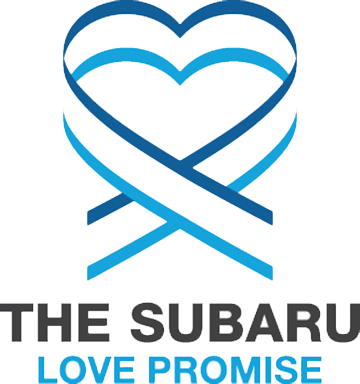 What is the Subaru Love Promise?
Subaru and our retailers believe in making the world a better place and the Subaru Love Promise is our vision of respecting all people. This is our commitment to show love and respect to our customers and to work to make a positive impact in the world.
How is Patriot Subaru of North Attleboro dedicated locally to the Love Promise?
Patriot Subaru of North Attleboro opened in July 2014. Our Mission Statement reads: To Serve - Our Customers, Our Families, Our Community, and Each Other. We strive to "do the right thing" in all aspects of our business, treating all who we meet with great respect. The Subaru Love Promise is an extension of both, and we greatly appreciate and enjoy the opportunity and responsibility to serve our community.
Last Hope K9 Dog Adoptions
Zero-Land Fill Facility , Free Community Recycling Center, Roadside Clean-Up, Keep North Attleboro Beautiful
Love Promise Stories from Patriot Subaru of North Attleboro
Subaru and Patriot Subaru of North Attleboro believe in making a positive impact on the communities in which we live and work. We uphold that belief through our Love Promise Community Commitment. Every month, we select inspiring stories from customers and partners from around our area who strive to support our collective commitment and feature them here
Booking Around Town - Malcolm M
Patriot Subaru North Attleboro has been working for several years with "Read With Malcolm" founded by former New England Patriot and Super Bowl champ, Malcolm Mitchell. The RWM mission is to transform the lives of children through literacy by introducing book ownership to students who may not have access, or the means, to buy a book. To date, Patriot Subaru has purchased 650 copies of Malcolm's book, "The Magician's Hat", and distributed them to students, primarily 2nd graders in the greater North Attleboro area. Associates from Patriot have made deliveries to the Amvet Elementary School, Community School, Falls Elementary, Roosevelt School, and Martin Elementary School. We coordinated with the school teachers and administrators, and it was a surprise for all the students when they were handed their very own book. Fantastic! We have been so pleased to have received cards and letters from these young students, thanking us. Keep on reading!
---
Supportive Food Drive For Shelter - Colleen J
As described in a previous Love Promise chapter, Patriot Subaru was able to donate a supply of blankets to the Community Care Alliance/ Woonsocket Homeless Shelter. While organizing that event, we coordinated with their Director of Communications and Development, Colleen Joubert. We told her to please reach out to us in time of need, and we would make our best effort to help. Several months later, Colleen did just that. She informed us that with homelessness rising, and support weakened due to the pandemic, supplies were getting very tight. In response, Patriot put together a food drive at the dealership. To broaden our reach, we contacted another local group, Missions That Matter, to join us in collecting canned goods and non-perishables. Social media and flyers produced by Patriot helped to spread the request to donate. Together we were able to collect 52 boxes of food, Associates from Patriot Subaru team loaded it all up and delivered and unloaded the items at the shelter. Love Promise, kept.
---
Patriot Subaru Loves NA Animal Shelter - FNAAS - Laura S
On behalf of all of us at Friends of the North Attleboro Animal Shelter (FNAAS) and the North Attleboro Animal Shelter, we want to express our immense gratitude to Patriot Subaru of North Attleboro for supporting us in the Subaru Loves Pets program in October. The North Attleboro Animal Shelter is a small municipal no-kill shelter and donations are crucial to maintaining their no-kill shelter status. The Shelter relies on fundraising and donations to help provide a stable and safe place for homeless animals and assure they receive proper veterinary care. Because of the pandemic, FNAAS had to cancel our major fundraising events this year, including what would have been the twentieth annual Strut Your Mutt Summer Festival, and what would have been our eleventh annual PAR for PETS Golf Tournament in the fall. Patriot Subaru of North Attleboro's invitation for us to participate in the Subaru Loves Pets program could not have come at a more perfect time! We especially want to thank Patriot Subaru of North Attleboro's marketing director Tom Talbott, the dealership's general manager Mark Perryman, and last but not least, Patriot Subaru owner Adam Arens. Tom, Mark and Adam are incredibly generous, animal loving people who lead a company that truly walks the walk and talks the talk! We were also thrilled that the Subaru Loves Pets program was graciously opened up to include both cats and dogs. Since our shelter traditionally houses more cats than dogs, through Subaru's generosity, the North Attleboro Animal Shelter was able to surpass the goal of 31 adoptions in October! Patriot Subaru of North Attleboro donated $100 to FNAAS for each of the first 20 dogs or cats adopted and Subaru of America donated $100 for each of the next 11 adoptions for a total of $3,100! One of the most important services that the North Attleboro Animal Shelter offers to the community is "Get Your Fix" which is a low cost spay and neuter program through the Animal Rescue League of Boston's mobile Spay Waggin'. This program helps to reduce the number of dogs and cats that end up in our shelter and other local shelters. The "Get Your Fix" program also provides vaccinations, flea/worm treatment and microchipping which are all vital for the health and well-being of the animals. This program serves numerous local pet owners each year and relies heavily on annual fundraising and donations to subsidize the costs. Thanks go to Patriot Subaru of North Attleboro and the Subaru Loves Pets program for helping us maintain the "Get Your Fix" clinics during this challenging time when individuals and families are relying on us more than ever. We are forever thankful to Patriot Subaru of North Attleboro and Subaru of America for their outstanding support. Partnering with such a big-hearted, like-minded company - one that even allows team members to bring their dogs to work - truly means the world to us and the pets we aim to find homes for!
---
Timely Delivery of Blankets To Shelter - Patriot S
On a brisk November afternoon, Patriot Subaru of North Attleboro donated and delivered 80 blankets to the Community Care Alliance, specifically their Serenity Center in Woonsocket, RI. With colder days approaching, the need for blankets is high on their list, and will be distributed to those in need. Turns out on the very day we called the CCA, they had just come out of a meeting where one of the topics was to find additional blankets for the homeless this season. The timing was very good, but the needs are so much deeper. During our delivery to the Serenity Center, we listened and learned from Colleen Joubert, CCA Director of Communications, and Lynn Mosher, Serenity Supervisor, about the role the Center plays in the community, the daily needs, and the struggles to keep up. We thanked them for all they do to help those who are homeless, those with addictions, and more. This is another step of the Subaru Love Promise / Subaru Loves To Help program. Nationally, Subaru will distribute 50,000 blankets this fall, from dealerships down to the local organizations that are in the best position to get the blankets to people. Joining for a photo, L-R, Mark Perryman/Patriot Subaru, Colleen Joubert and Lynn Mosher/CCA -Serenity Center, with Jacob Coyle, Kaysi Lombardi, and Matt D'Ambra from Patriot Subaru.
---
Subees! A Honeybee Rescue Mission - Mark P
August 2020 - a violent storm rocked the Providence area. In the nature conservation area to the side of our Patriot Subaru North Attleboro store, an old ash tree succumbed to the high winds. It did damage, and cut off access to our parking lot. General Manager Mark Perryman was in his office and heard the crash. Later that day, the Patriot team ventured out to survey the area, and noticed an abundance of bees swarming the area. Recognizing them as honeybees, Mark called everyone back in, deciding it would be best to let the bees settle down. Our next goal was to take steps to save the hive. We googled "Bee Keepers", and were disappointed to hear from several that we should just cut up the tree, clean up, and move on. No chance. Luckily one of our customers is an amateur beekeeper and they recommended the Charlton Bee Company. Scott Herbert and Chad Whitcomb manage 45 bee colonies in MA. They educate customers on how bee colonies survive, and the benefits to our environment. The mission was to find and extract the Queen, and the other bees will follow. The colony would then be transported to a new area, with an experienced beekeeper to take care of them. Mark Perryman donned full bee-gear and joined in the efforts. Chainsaws, with surgical precision isolated the hive, cutting it open, and though there were an estimated 20,000 honeybees, the larger Queen was located. We were witness to the inner comb, where bees were hatching in front of our eyes. Subees! The entire episode was a great experience to see. The mission was a success, and the hive was moved successfully. Our own National Geographic moment!
---
Memorial Day Veterans Ride - Cliff O
Cliff Oliveira, US Marine Corp 0311 Infantry '87-'91, joined the Memorial Day Weekend Veterans Ride to the Veterans Wall display in Fall River, MA. (Center rider) Cliff is our Patriot Subaru North Attleboro Service Manager, part of our Veteran-Led business. The wall is located at Veterans Memorial Bicentennial Park, 1082 Davol Street, Fall River, MA. The Wall forms a powerful tribute to the brave members of the U.S. Armed Forces killed or missing in action during the Vietnam War.
---
Share the Love, Share the Gloves! - Patriot S
With the onset of the Covid-19 pandemic in March 2020, there was an immediate need to find supplies of personal protection equipment. Gloves, masks, hand sanitizers, disinfectant wipes, and so on - quickly disappeared from the shelves, and suppliers ran dry. Patriot Subaru North Attleboro was able to tap one of our automotive vendors who supplied our service department, for a healthy supply of latex/ non-latex medical grade gloves. 5000 pairs to be exact! We made a call to the Providence VA Medical Center, to check on their needs, and they were in fact facing critical shortages Patriot General Manager Mark Perryman, and Cliff Oliveira/Service Director, packed up and made the delivery. Share the Gloves! On the receiving end at PVAMC were Donna Russillo/Chief Volunteer Services and Deb Veasey/ Volunteer Services. Because security was so tight, the delivery had to be made in the parking area. Mark and Cliff are both veterans, Army and Marines respectively, so it meant a lot to them to be able to deliver these items. In addition to the gloves, Patriot Subaru took up a collection at our store, asking associates, customers, and friends, who might engage in a hobby or craft that uses PPE goods, to share any new, unopened boxes of gloves, masks, or items of that nature. The collection was relatively small, but one item is better than none! We appreciate everyone who participated, and know that the PVAMC was able to put all the items to excellent use.
---
Changing Lives through Literacy - Anne S
Thank you to Patriot Subaru in North Attleboro, Massachusetts for being a partner with Share the Magic Foundation over the past three years. During the 2019 Subaru Share the Love Campaign, Patriot Subaru donated over $58,000 to Share the Magic Foundation to further our Read with Malcolm literacy programs. During the 2019-2020 school year, Read with Malcolm literacy programs reached over 67,000 students through our in-school and virtual programs. In New England alone, the support of Patriot Subaru of North Attleboro enabled Share the Magic Foundation to provide books and in-school programming to almost 400 students. Additionally, through our virtual and distance learning programming, we reached over 10,000 students in the New England area. Share the Magic Foundation's Read with Malcolm Programs, target struggling readers, striving readers and those students who learn differently. Patriot Subaru of North Attleboro's generous donation has been used to provide books and programs to students at risk of academic failure along with technology and delivery improvements for our virtual learning programs, allowing more students in North Attleboro, New England and across the country to "Read with Malcolm." Thank you, Patriot Subaru, for your continued support of youth literacy and Share the Magic Foundation.
---
Patriot Subaru Visits Davies Jr. Career School - Patriot S
Patriot Subaru of North Attleboro's Service Director/Cliff Oliveira, Service Tech/Tom McQuaid and Public Relations/Brittany Plowman spent a day at the William M Davies Jr Career and Technical High School in Lincoln, Rhode Island. The trio was honored to speak to a group of 50 junior and senior students about careers in the automotive industry. William M Davies has an award-winning curriculum and is opening the door for many students to apply and learn automotive tech skills. The forum included everything the students need to know about Subaru University, a national Subaru initiative that teaches new techs with specific knowledge on Subaru vehicles and systems, in preparation for work at Subaru dealerships. There was also an in-depth look at what it is like working at Patriot Subaru. The students asked some excellent questions and they all had great exchange of ideas. At the end, the Patriot team was treated to a tour of the fantastic facility. It was a very worthwhile venture, that will be repeated in the future. Never stop learning!
---
Subaru Tech Orientation Night - Patriot S
New Subarus sold these days provide more safety and comfort than ever before, but with it comes some challenges for the drivers. There is a lot to learn! Many features and options at the fingertips actually go unused because the owners simply do not know how to use them. Patriot Subaru teamed up with Subaru of New England to host "Technology Orientation Night", inviting Subaru owners to come in for a training and education on their vehicles. Was there interest? Oh yes! 112 people came to the store to attend the demonstrations and "hands on" teachings. Stations were set up in the service bays where customers could see, listen, and learn, everything from how to properly use Starlink, to how to utilize the EyeSight safety system. While much of the night had teaching in groups, time was provided for attendees to work one-on-one with a teacher. Patriot added a touch of class to the evening with valet parking and a fine buffet. All participants received a gift bag that included an emergency road kit. A follow up survey to the attendees revealed an overwhelming appreciation for the evening's content and execution."Well done! Let us know when you're doing this again!"
---
Supporting Subaru Loves Learning Initiative - Kristine K
Reading and learning are so important in young children's lives and sometimes it takes new books to make it a little more exciting! Subaru's goal is to make the pursuit of knowledge available to as many minds as possible, which is the catalyst for the 'Subaru Loves Learning" program. This year's Love Learning program teamed up with the American Associate for the Advancement of Science (AAAS). Patriot Subaru of North Attleboro was one of the 541 Subaru dealerships that participated nationwide. In October, Patriot Subaru's Brittany Plowman (PR and Event Coordinator) and Eddie Cicciu (General Sales Manager) delivered Patriot's donation of 150 Science Books plus a $500 Staples gift card to the Amvet Boulevard Elementary School in North Attleboro. The principal of the Amvet School, Kristine Kefor, said that the books are going to be divided up between the library and the classrooms so kids and teachers can both enjoy them. Each of the books have little projects and experiments that the teachers can do with their classrooms. The Staples gift card will be used to purchase needed supplies - items that teachers often end up purchasing out of the their own pockets. We were truly inspired by the enthusiasm of students as they received the books - we know they'll be put to good use!
---
The Pitmaster Responds - Mark P
Random acts of kindness, or just jumping in to help out can bring smiles and restore happiness.When a nearby North Attleboro neighborhood known as "The Cliffs" held their neighborhood summer block party, spirits were high. Unfortunately, after the festivities, the rented large propane tank used for the grills was stolen. Facing about $140 replacement cost for the tank, the neighborhood thought about a GoFundMe campaign to raise the money. However, when one of the organizers relayed the story to Mark Perryman, the General Manager at Patriot Subaru, the response was quick. Patriot covered the cost of the stolen tank, and the smiles returned. Perhaps the customer didn't realize the Mark is not only the GM, but he is the official "Pitmaster" for the store, frequently grilling up the best brisket, steaks, and burgers you'll find far and wide. All's well that grills well.
---
Subaru Loves to Care Delivery - Laura W
Thursday, August 8th, Patriot Subaru of North Attleboro joined forces with The Leukemia & Lymphoma Society, Massachusetts Chapter to help share the love by delivering 80 blankets and arts and crafts kits to Sturdy Memorial Hospital along with messages of hope and strength for those suffering from a blood cancer or life threatening illness.Since 2015, Subaru has partnered with the Leukemia and Lymphoma Society (LLS) to spread hope, love, and warmth to cancer patients through small gestures of caring. LLS and Subaru have donated over 43,000 blankets and 9,000 arts and crafts kits to hospitals nationwide. Thank you to Patriot Subaru of North Attleboro for all you do in supporting the local community and especially to cancer patients. You are truly making a difference!
---
Be a Big! - Betty H
Big Brothers Big Sisters of the Ocean State (RI) believes that when children and teens have the influence of a caring adult, they are more likely to avoid risky behaviors, do better in school, and are on a path to reach their potential. As a Big, you don't have to have a special degree, just a desire to positively impact a young person. Patriot Subaru sales associate Betty Husted realized that she was doing a lot of fun things – hiking, playing sports, going to museums, beach trips, so it seemed like a perfect opportunity to welcome along a youngster who doesn't have as much access or the means to participate in those kinds of activities on a regular basis. Betty was teamed up with Ouni, now 9 years old, and as Betty says, "It couldn't have been a more perfect match." Not only are the two attending such great events like New England Patriot's games at nearby Gillette Stadium (see pic) but Ouni often comes to work with Betty. "He knows his Subarus well, spotting them from quite a distance when we're out driving," notes Betty, adding that Ouni is big into market research. "Betty, yesterday I saw 5 Subarus in the parking lot." he'll say, before adding, "But some were from another store." "Haha," smiles Betty- "he's the best!"
---
Getting Safe Rides Home On New Year's Eve - Christopher B
Everyone loves a good time on New Year's Eve, but nothing is more important than getting home safely. No one takes it more seriously than those who serve as First Responders, the Police, or the Fire Department, who want to reduce the risks as much as possible. So, more than talk, city firefighters in Providence, RI stepped up and voluntarily created their "Safe Night" program, providing free rides home from area bars and restaurants. The program began in 2014 by Lieutenant Derek Silva, who is currently the Union President. "It's an opportunity to give back to our community, an effort to cut down on the number of potentially impaired drivers who have been out for the New Year, and to help those who may not be able to make it home safely on their own." Chris Bernal is a sales associate at Patriot Subaru of North Attleboro and is also a firefighter with Providence Fire Fighters IAFF Local 799. He joined the house in mid-2017, and for the past two years, Chris has volunteered to be one of the Safe Night drivers. This past 2018-2019 Eve event provided rides to about 100 people. "People are very appreciative" notes Chris. "It's meaningful, and really does help us connect with the community. It's proactive." It is just how Lt. Silva had hoped it would work. (Photo - Chris Bernal/Patriot Subaru, 3rd from left, with 3 other Local 799 firefighters who provided Safe Night rides.)
---
HarvestFest With Friends - Jennifer K
The team of Patriot Subaru of North Attleboro is a pack of animal loving friends that really strive to support the organizations in their area that feel the same way. One of those organizations is the Friends of Attleboro Shelter, an all-volunteer non-profit organization committed to nurturing animals and creating a community guided by compassion for animals. Patriot Subaru of North Attleboro donated and participated in both the 2017 and 2018 Annual Harvest Fest hosted by FAAS. The goal of the festival is to celebrate in the shared interest of supporting the shelter, while also giving local organizations a chance to share their story and help raise money for the shelter. Patriot associates Lex Pelletier and Craig Redegeld spent a windy afternoon handing out key chains, dog bandanas, water bottles, and pup treats to the animals and guests of the festival while also showcasing the new Subaru Ascent! Lex and Craig talked to many guests who had rescued their fur-friend from FAAS and were happy to hear their stories. Before long you could see the dogs of the festival sporting blue and pink bandanas wherever you looked! With over 100 organizations there to support FAAS, Patriot Subaru was happy to be a part of the event. Starting in October, Patriot Subaru extended their support to the Friends of Attleboro Animal Shelter by collecting donations throughout the month for the cats and dogs in the current care of the shelter. Two overflowing boxes of pet food, toys, blankets, and treats, were loaded up and brought them over to the shelter, which they greatly appreciated. We appreciate what they do, and are all too glad to help!
---
Sturdy Hospital Blanket Delivery - Kathi H
Members of the Patriot Subaru of North Attleboro leadership team took the afternoon to donate blankets and messages of hope to the Oncology Department of Sturdy Hospital of Attleboro Massachusetts. This summer Subaru of New England and The Leukemia and Lymphoma Society partnered together to spread hope and warmth to those in hospitals across the country suffering from a blood cancer or illness. Patriot Subaru of North Attleboro participated in this mission by providing a table through the month of May where customers and team members could write messages and cards of hope to patients of Sturdy Hospital. Once the messages had been collected, Patriot Subaru matched them with blankets and delivered them to Sturdy Hospital with representatives of Patriot as well as the Leukemia and Lymphoma society. Patriot Subaru was also met by various members of the hospital who gratefully took the blankets and provided to them patients. Even though it was a rainy day, the love was truly felt in the lobby of the Oncology Department and hospital staff were truly grateful for the donation.
---
Adoption Event Partner for Last Hope K9 Rescue! - Kate D
Patriot Subaru of North Attleboro has been an adoption event partner for Last Hope K9 Rescue, an all-breed foster based rescue, for over 3 years! They are always super welcoming, the staff loves having all of the dogs and puppies come to visit, and their amazing location allows us to have many dogs with lots of space, and just a beautiful sunny area for adopters to come and meet their new best friends! Since Last Hope K9 Rescue does not have a physical shelter, it is imperative that we work with our adoption event partners to get our dogs out to meet the public. We love working with Patriot Subaru! Our latest adoption event in October saw 4 of our rescue dogs find loving homes, and we already can't wait for the next one!! Check out our website www.lasthopek9.org for more information on events and how to adopt :)
---
Helping To Set A Dog Washing World Record - Kate P
This one was one for the record books...the Guinness World Record Books we hope! Patriot Subaru of North Attleboro was one of the host locations for a national day of dog washing, with all the proceeds going to benefit local dog rescue shelters. The brainchild of this event was Bathe To Save, a family from Australia who has been touring the US. with their "HydroDog" mobile washing vans, while advocating for dog rescues and adoptions. Bathe to Save organized locations across the nation to set up tubs and hoses, shampoo and towels, and got the word out to the community to come down and join in the wet washing fun. The goal was to set a new world's record for "Most Dogs Washed in Multiple Locations In A 12 Hour Period." Ok, that might sound crazy, but the real goal was to raise money and awareness for the importance of dog adoptions from these rescue shelters. Patriot teamed up with Last Hope K9, a 100% volunteer-run foster based rescue based in Massachusetts. Last Hope K9's mission is to rescue dogs from kill shelters and place them with a permanent home or find fosters willing to open their homes and hearts until the right "furever" home can be found. Patriot Subaru has teamed up with Last Hope on 6 separate dog adoption events over the past 4 years, with over 50 dogs adopted - which is a great feeling. For the wash, the donation request was $10 for a wash, or $20 for a wash, dog bandana, and a t-shirt. It was truly a pet and family friendly event. Patriot had a tidy set up of children's swimming pools, perfect for shampooing (our new word), and assisted the dog owner's in their washing efforts by supplying all of the items needed for washing, drying, and brushing. Patriot associates also provided that extra set of hands for handling some of the more timid or feisty dogs. There were requirements - all dogs had to be over 1 year old to be on the official count. Going from 11am-2p, there were 29 dogs washed, earning $400 for Last Hope K9. Still waiting for word on the World's Record from Guinness! With so many locations, who's going to beat it?
---
Harvest Fest Brings Crafters and Pets Together - Amy M
Harvest Fest is a wonderful annual event organized by the Friends of Attleboro Animal Shelter, Attleboro, MA. While being primarily a fundraiser to benefit the shelter, it has become one of the area's most popular fall events going back to 2003. With the bright fall colors in the background and blue sky overhead, over 100 area vendors - crafters, artists, musicians, bakers, along with other rescues and shelters, come together to celebrate and enjoy a great day - many with their pets joining in. Similar to a fairground set up, people can stroll the grounds and visit the many booths and tents checking out the creativity of home-made goods and gifts that are either sold or given out free. Dog collars, crochet toys, chews of every variety, colorful sweaters, and tasty treats for kids, adults and dogs alike. Patriot Subaru of North Attleboro has joined in all the fun for the past two Harvest Fest's - 2017, 2018, with a booth full of fun giveaways including bright blue and orange bandanas, key chains, tote bags, and doggie-water bottles. Our associates shared many stories with people talking about their dogs and traveling with them in their Subarus. It also was a good time to talk to people about Patriot's bi-annual dog adoption events held at the store. Nothing could be better than when one of the Harvest Fest attendees came up to our booth to tell us they got their dog at our adoption event! Pictured here is Patriot Subaru's Parts Department Manager, Craig Redegeld, getting the booth all set up for another great day on the green!
---
Pinewood Derby Sparks Creativity - Patriot S
"Gentlemen, start your engines.", or in this case, "Boys, let 'em roll!" Patriot Subaru welcomed Cub Scout Pack 9 of North Attleboro with an ambitious and enthusiastic group of scouts and their families to our store, as we hosted their annual Pinewood Derby! This is where miniature race cars are shaped and carved from a simple kit comprised of a small block of pine wood, 4 plastic wheels and four nails. When finished, it cannot exceed a weight of 5 ounces, and must fit to run on a standardized track. First held in 1953, the event is bigger than ever. The original idea was not just about racing, it was really developed for a parent to engage and work on a project with their son. The process of designing, carving, painting, decaling and "fine-tuning" the car is a great opportunity to collaborate, create, and learn together. They may win, they may lose, and it becomes a wonderful opportunity to share a life lesson. These days, "entertainment" is usually watched, and this hands-on program has great value. Instead of a video game or cell-phone app that is for one person to do in the palm of their hand, this is a shared moment, parent and child working together. Most Derby events are held at the "den" where the pack meets, typically a church basement or rec hall. When Patriot Subaru connected with local Den Committee Chairman, Kent Oldmixon, the plan was to take the atmosphere up a notch. The decision was made to set up the race track in the Patriot Subaru Service Department, a giant automotive garage with car lifts, tools, and automotive apparatus; a perfect backdrop for a race car event! Held on a Sunday afternoon, scouts and family members filled the "arena", 150 strong. Many Patriot associates attended, including Patriot's Service Technicians who came in uniform to support the young racers. There was a special round of cheers when two of the technicians were introduced as full-fledged Eagle Scouts. A local car club brought in an array of classic cars, and Patriot brought in a hot WRX STI, which turbocharged the crowd. Checkered flags and music added to the festivities. 10 pizzas disappeared in a heartbeat. (Next year get 30) A beautiful old Derby track that had been restored made its return to the racing circuit, to the delight of all involved. The competition was exciting, eliciting cheers from all. Everyone tried their best - some won, more lost, lessons were learned. It was a valuable experience for the participants, reminding us of simpler times. And, who knows how many of these scouts might someday be an engineer, a mechanic, or even a race car driver! When you watch an event like this you just have to think of the kind of influence this has on a young person, challenging them and sparking their creativity.
---
Impossible Is Just A Word - Patriot S
It was truly a magical day at Patriot Subaru when we were visited by John Duke Logan; magician, author, and keynote speaker, plus 7 grade school students and their parents. Only in his mid-20's, John has already published two books, has appeared on "America's Got Talent", and has his own show on Patriots.com for the New England Patriots. To John, "Impossible is just a word", and he weaves that belief into an entertaining program. On this day at Patriot Subaru, John came to speak these young students, grades 1-4 from the local Foxboro Regional Charter School, to celebrate their personal reading achievements in the classroom. Jaylen Bellefleur, Orobosa Omoruyi, Khiar-ann Eriveaux, Taryn Giza, Kyle Landim, Brianna Haydon and Lawsen Aldrick, had been nominated by their teachers for this day of recognition, and came with their families to be congratulated and entertained. John knows very well the doors that are opened by books and literacy initiatives, not only from his own experience, but by his work with New England Patriots wide receiver, Malcolm Mitchell. It was Mitchell who credits his early love of reading for helping him achieve his goals of a college education, and he started "Read With Malcolm", a nonprofit whose mission is to promote the long-term benefits of reading and book ownership among students in Title 1 schools and underserved communities. Says Logan, "I believe reading is critical in today's culture and can help people accomplish goals they want to achieve in life." He tours with Mitchell to schools throughout New England. During the Patriot Subaru event, students were asked what reading meant to them. 1st grader Jaylen said he loves reading because he can get smarter. His parents added that based on assessments within the classroom and his work during reading groups, Jaylen has shown significant improvement throughout the first term. John's fun show featured one-on-one magic with each of the students, which was both amazing and filled with good humor. It carried forward the theme that "impossible is just a word". John concluded by reading "The Magicians Hat", a book penned by Malcolm Mitchell. Each student received a t-shirt and a certificate, then posed for pictures with John and all family members. To top off the day, the students and their families were treated to pizza and a special Patriot's football cake. A very happy day! The End.
---
Supporting New Hope For A Better Community - Patriot S
Patriot Subaru's Mission Statement is simple, two words: To Serve. We underline that with "Our Customers, Our Families, Our Community, and Each Other." So when we met Marcia Szymanski, the Executive Director for New Hope Inc, and learned about the hard work they do every day, we wanted to provide some assistance. The New Hope mission is to create communities free from violence and exploitation. Domestic and sexual violence crosses many boundaries regardless of race, religion, education, economics, and more. Based in Attleboro, New Hope provides comprehensive domestic violence and sexual assault services in Central and Southern New England. Over the holidays, Patriot made a donation to New Hope of children's toys and gifts that were provided by both the company as well as many of the individual store associates. These items go to families where children may have been directly or indirectly victimized or negatively affected by unhealthy domestic situations. It may be simple, but it matters. After the holidays, five members of the Patriot Subaru team went down to visit with Marcia at the New Hope offices to learn more and meet other staff members. The team was able to take an in-depth look at the support New Hope provides. It gave new insight into what so many families right in our community and neighborhoods deal with every day, and the effects and impact it has on individuals, adults, and children. The meeting followed up with a discussion of new ideas of ways that Patriot Subaru can provide assistance.
---
"Bathe To Save" - Clean Dogs and A Big Heart - Patriot S
Patriot Subaru in North Attleboro was proud to team up with "Bathe To Save", the brainchild of an Australian family on a mission to raise money and awareness for local animal shelters on a nationwide basis. Arriving at Patriot on a beautiful October day in their 40 foot long motor coach and towing "Bubbles" - an enormous cartoon-like portable dog washing unit, the Amos family set-up for a busy day of dog washing action. Patriot associates were hands-on in all aspects, from registering people and their dogs on arrival, escorting them to the bathing unit, and towel drying them off. At the same time, associates ran a delicious BBQ - hot dogs of course, with hamburgers as well. They also assisted a number of participating vendors - local retailers who joined in to make it a fuller and more festive event. Each dog washed earned money for the local Friends of Attleboro Animal Shelter, who had a full booth set up and display. FAAS had items for sale, as well as photos/albums of dogs that were currently available for adoption. Rumford Pet Center, a local pet supply retailer was also there, with a wide array of pet products, chew toys, and more, plus a raffle for many great prizes. All money collected from the raffle went to the FAAS. On the side, a Subaru Crosstrek was set up to "Stuff", and sure enough we did, with an outpouring of donations of food, blankets, toys, cleaning supplies, and other essentials. Though our event was on a Friday, which is obviously a busy work day for most, over $1000 was raised from the washes, plus a car load of supplies. Most importantly, the marketing leading up to the event created a tremendous amount of awareness for FAAS, highlighting their services, and helping to place more dogs into loving new homes through adoption. A lot to bark about!
---
Patriot Helps Keep North Attleboro Beautiful - Patriot S
A visit to Patriot Subaru North Attleboro reveals a variety of green environmental programs and applications throughout the store. The store was designed eco-friendly, supported by associates who recycle, reuse, and re-purpose in all departments. It didn't take long for Patriot to connect with a local non-profit organization, "Keep North Attleboro Beautiful". KNAB organizes clean up days, landscaping projects, litter-busters, and recycling efforts. Since Earth Day 2015, Patriot has set aside several days in April to raise money for the planting of shade trees, by taking a percentage of vehicle sales. The origin of the project started with the Saco, Maine store in 2014, and to date the two stores have donated over $4000. For KNAB, trees have been selected and planted to beautify several areas in town, including a lovely historical cemetery. The relationship doesn't end there, as Patriot Subaru associates participate in the annual KNAB town-wide clean up held early each May. Comptroller Rebecca Haverkamp organizes a team of Patriot associates in combination with family members, joining hundreds of community volunteers, rain or shine. "Shine is easier." says Rebecca. "But we still get it done in the rain." Pictured at Patriot for a check presentation are Glenn Horton, Wendy Frazetti, Robert Ogust, Christine Clougherty, KNAB President -Marsha Goldstein, Aubrey Williams, KNAB Board -Jay Elias, Brittany Pina, Marty Ross,and Craig Redegeld. Two green thumbs up!
---
The Band Plays On! - Adam A
For more than 50 years, instrumental music students of all ages in the greater Attleborough, MA area have been coming together to form a Summer Band program. Over the years, the program of woodwinds, brass, and percussion players has been a popular and positive program. In 1994, Denise Berson took over as the Band Director, and continues to this day. An accomplished clarinet player and teacher, Denise leads both the Beginner Band and the Advanced Band program. Many of the advanced students continue to play in the beginning band and have an opportunity to mentor the incoming younger pupils. A local trust fund originally started and sustained the program, but those dollars ultimately were shifted to adult programs. Sponsor dollars were getting scarce, and for the past few years, the program had to begin charging students a fee to play. When Denise purchased a new Subaru at Patriot, she struck up a conversation with the owner, Adam Arens. While describing the music program and the distinct possibility of it not continuing due to lack of funding, Adam's response was, "We can't let that happen." Immediately, an underwriting donation was made that would assure the program would continue this year. Patriot will add a marketing effort through social media and the store website, with the goal to rebuild the number of participating students. One of the goals is a concert at the dealership. Stay tuned for updates!
---
Taking Share The Love To The Next Step - Tom T
For the annual Subaru Share The Love event, Patriot Subaru of NA chose Students Against Destructive Decisions aka SADD, as their local charity. This peer-to-peer organization provides direction to young adults to make good decisions, and to take a stand against underage drinking, impaired driving, drug use, or other negative choices. Maceo Johnson, a Patriot sales associate become personally involved. A customer, Chris Charron, worked as a guidance counselor at nearby Bishop Feehan High School. Chris arranged for Maceo to meet with the schools SADD coordinator, Karen Serpa. Maceo discussed ideas with Patriot owner Adam Arens, and the decision was made to purchase a pair of Fatal Vision Impairment Simulation goggles. The goggles allow a sober mind to experience the effects of driving while impaired from alcohol or marijuana. Macao organized the goggle donation presentation to the Bishop Feehan student's SADD program, and conducted a series of tests with the students. In addition, Maceo discussed the Subaru EyeSight® System, where cameras mounted by the cars rear-view mirror provide audio and visual alerts as well as the application of the brakes if there is potential of a collision. Students asked many questions as it related to distracted driving. Maceo will continue to work with the students, organizing more demonstrations and events. A great example of extending the national Share The Love program into a hands-on local opportunity.
---
Making Good Decisions - Tom T
For the annual Subaru Share The Love program, Patriot Subaru of NA chose "Students Against Destructive Decisions", aka S.A.D.D. as their local charity. This peer-to-peer organization provides direction to young adults to make good decisions, and to take a stand against underage drinking, impaired driving, drug use, or other negative choices. Maceo Johnson, a Patriot sales associate become personally involved. A customer, Chris Charron, worked as a guidance counselor at nearby Bishop Feehan High School. Chris arranged for Maceo to meet with the school's SADD coordinator, Karen Serpa. Maceo discussed ideas with Patriot owner Adam Arens, and the decision was made to purchase a pair of "Fatal Vision Impairment Simulation" goggles.The goggles allow a sober mind to experience the effects of driving while impaired from alcohol or marijuana. Maceo then presented the goggles to the school, in addition to conducting experiments with the students. Maceo also discussed the Subaru EyeSight System and how it works. Cameras mounted by the rearview mirror provide audio and visual alerts, and will automatically apply the brakes if there is potential of a collision. Students asked many questions as it related to distracted driving. Maceo will continue to work with the Bishop Feehan students, organizing more demonstrations and events. A great example of extending a national program into a hands-on local opportunity.
---
Patriot Provides Free Recycle Station - Tom T
Being Green sometimes takes some help. For the Do-It-Yourselfer who likes to work on their vehicles at home, it may be rewarding, but it can also be prohibitive or costly if you cannot properly dispose of the old waste items. Patriot Subaru in North Attleboro provides a solution. Our Service Department will accept and recycle old batteries, oil filters, oils, and fluids free of charge. Car, motorcycle, boat, snowmobile, lawnmower...if it has an engine we'll help you out. This is a service for individuals, not commercial. Simple Rules: 1. Only deliver during store hours. 2. No leaking or open containers. (filters in zip locked bags) 3. Bring directly to Service Drive, not the showroom. Never leave anything if the store is closed, as it could create a hazard, and we'd have to stop the service. Otherwise, please feel free to use our service, and Patriot Subaru will dispose and or recycle everything correctly.
---
Dog Adoption Days - Tom T
It's well documented that we're animal lovers here at Patriot Subaru, and it's perfectly normal to have at least one dog at the store at any given time. So hosting a dog adoption at the store is something that we greatly enjoy. There are many wonderful shelters in the area, and we've had the good fortune to team up with Last Hope K9. LHk9 is an all-breed rescue that saves abandoned and abused dogs from high-kill shelters throughout the U.S. There is no discrimination based on breed, age, or pre-existing medical conditions. Every animal deserves to know love. At each adoption event, an average of 15 dogs are brought in through their various foster homes. We communicate the event with a strong, targeted social media campaign, website, and PR support from local media outlets. Patriot commits to providing $100 to the cost of the first 10 adoptions. During the event, we typically see at least that many dogs, if not more, being adopted by new, loving homes. In addition to the adoption aspect, we have a "Stuff The Subaru" feature, where people can donate bags or cans of food, blankets, bowls, chew toys and so on. Not everyone is in a position to adopt, but their donations are delivered to LHK9, who then funnel it to supportive foster homes. Donations will fill the back of a Forester several times over, with several hundred pounds of useful supplies. Patriot looks forward to more successful dog adoption events each year, and working with great partners like LHK9.
---
Patriot Subaru's Earth Day Shade Tree Program - Tom T
Supporting green initiatives and an eco-friendly environment, our North Attleboro store set aside 3 days ahead of April's Earth Day, with a donation set aside for every vehicle sold. Money raised during this time frame was earmarked for "Keep North Attleboro Beautiful". KNAB is a volunteer organization that makes a difference through annual town wide cleanups, promoting community greening, and by creating greater environmental awareness. Patriot was pleased to present KNAB with a check that enabled the planting of 3 shade trees. A red maple tree was planted at the entrance to our local Fish Hatchery, which is a federal facility. A sugar maple and a beech were planted by the historical cemetery/arboretum, which is a popular dog-walking site in the community. The trees were selected by resident landscape expert, Frank Wojciechowski, who selected trees native to New England. Patriot shares the vision of KNAB to beautify and preserve the environment, and we were very pleased to see these wonderful trees become a part of our community. Pictured are Patriot Subaru's Owner and President Adam Arens presenting a check to Marsha Goldstein/President KNAB, Diane Hermenau/Secretary KNAB, and Jay Elias/KNAB. Go Green!
---