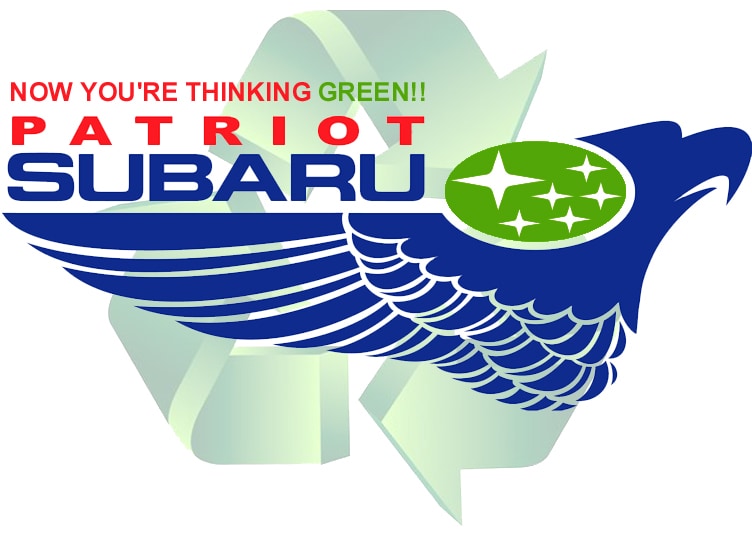 THE PATRIOT SUBARU ENVIRONMENTAL POLICY: 
The associates of Patriot Subaru pledge to be good stewards of the environment and will work together to eliminate the risks of our business operation by:
Recycling all used materials appropriately in all departments.

Conserving natural resources by reducing, reusing, and recycling materials and energy.

Complying with all environmental laws and regulations and other requirements related to our

business operations.

Remaining conscious of the carbon footprint within their area of work and pledging to

constantly try to reduce it.

Remaining a non-smoking facility.
We built Patriot Subaru keeping the natural resources of our community in mind, and we have continually improved our performance in relation to the environment.  In 2010 we re-dedicated our efforts to becoming the most environmentally conscious dealership in the country.  We strive to be a leader in environmental guidance for all dealerships in the country, and provide a good leadership example for all businesses. Patriot Subaru continues to work and improve the entire dealership as it relates to all things green. We've adopted policies that have lowered our energy use and expanded our recycling efforts.  We promote "thinking green" practices on everything we do, striving to be better, both at the store and at home. It's the right thing to do.
Patriot developed a comprehensive green strategy with McMillian Doolittle, to go from retailing to greentailing. It is built on four cornerstones:
Think Green:  Corporate objectives and commitment to sustainability practices.
Act Green: Broad view of actionable strategies - facilities, fixtures, packaging, and more.
Sell Green: Extent to which green products and services are promoted and sold.
Convey Green: Lead by example, and communicate the commitment.
We put our plan into action!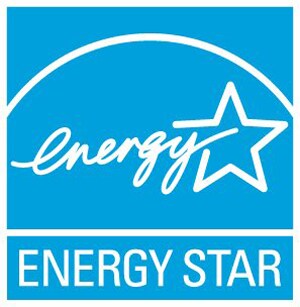 Patriot Subaru uses the Energy Star Guidelines to Energy Management.  We recommend that all businesses utilize this template to save energy and reduce waste.
Patriot Subaru has over 90 appliances in the store. 33 Computers, 33 Monitors, 22 Printers, 2 Televisions, 1 Refrigerator, 1 Microwave, and they are all Energy Star Rated.
THIS IS HOW WE ARE PATRIOT GREEN -
Live hanging plants -  We never use balloons!

We burn zero oil - propane heat

Recycle 100% of waste oil

Zero Irrigation landscaping

Aerated Cobblestones - Allow rain through. Reduce runoff.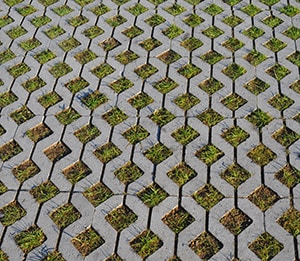 Composting (daily)

Zero landfill facility

Active Recycling Program for all associates and departments

Use of organic cleaning materials throughout the building

Cleaners purchased in 55 gallon drums and dispersed in refillable hand pump bottles.

Offering of PZEV Vehicles

All fluids recycled or reused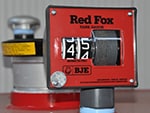 Tire Recycling

Proper battery, CRT and light bulb recycling and disposal

Recycling for lead weights that have been removed from wheels

Use steel wheel weights "not lead"

Use of recycled compostable paper cups (replaced styrofoam)

No outside paging (noise abatement)

Natural Landscape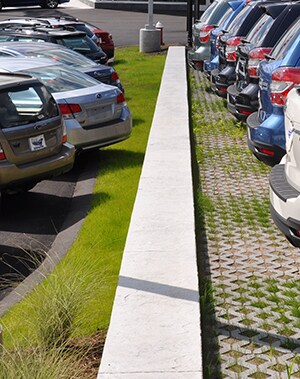 Chemical free pest control

Chemical free snow removal

Bird houses on premises

                                                     

PZEV vehicles

Switched from styrofoam plates to recyclable paper products

Recycling water

Reusable merchandising materials

Patriot Subaru reusable tote bags and coffee mugs

Wireless internet with terminals

for customers (less print and paper use)

Climate controlled basement

Bicycle racks on premise

Highly fuel efficient brand

Lifetime warranty to elim

inate vehicles going to scrap

Shipping all bubble wrap (plastic) back to shipper

Replaced bottled water with filtered water

Energy Star Computer Monitors and appliances throughout building

Green committee meeting weekly to discuss more ideas and implementation

Meeting with trash contractor to assure 100% recycle and separation policy
THIS IS HOW PATRIOT SUB
ARU REDUCES ENERGY:
Light sensors for outside lighting

High Speed Service doors - Reduce Heat/AC loss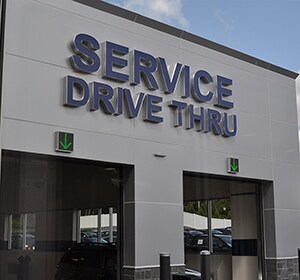 Motion light switches in all rooms/ auto on-off

Shut down strips / surge protectors

Skylites throughout the entire building

LED outdoor lighting (80% power reduction)

   (SEE PHOTO) 
Pull the plug policy - removing chargers and not in use appliances

Energy Star Certification

Turn it off policy - shut down of computers when not in use

Installed ceiling fans for more efficient heating and cooling

in service

Climate controlled subterranean storage area

Reduced trash pick up from 2x per week to one through recycling

HVAC system cleaned and filters changed to optimize efficiency

Manually adjust (and have programmable) thermostats to control HVAC

Signs placed throughout building to ask our customers to join in our energy reduction campaign

Compressor is on a timer (shut down automatically when not in use)

Maximized use of natural light
THIS IS HOW WE PROMOTE HEALTHIER LIVING:
Pay 100% of associates health insurance, dental insurance and vision insurance premium

No Smoking policy for associates (on premise)

Charitable giving towards local health related organizations

Healthy lunch program

Healthy food options

Active walking club

Safety eye wear provided free of charge

No use of golf carts - endorse walking

Professional Counseling available

Dog friendly property

Quarterly Red Cross Blood Drives

Rubber mats for standing working areas

Community activity commitment

Active weight loss program

Associate planted and maintained organic garden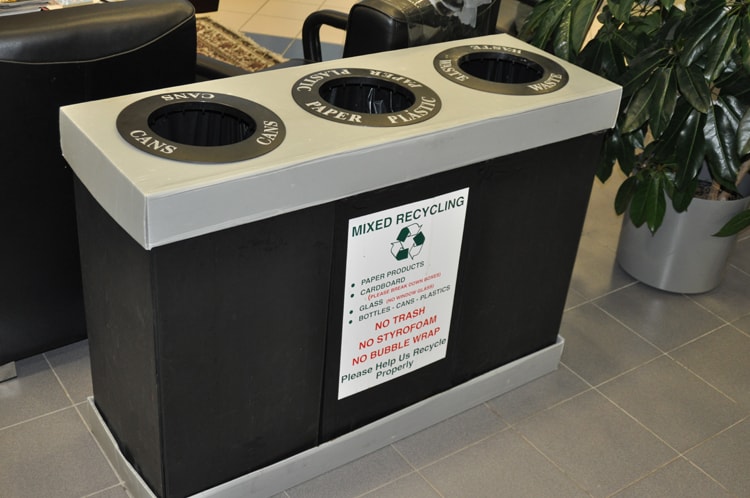 Patriot Subaru Recycling Center.
The Subaru Eco-Friendly Assembly Plant
Did you know that the Subaru assembly plant in Lafayette, Indiana was the first ever car manufacturing plant to achieve zero landfill status?
Known as the Subaru of Indiana Automotive (SIA) Manufacturing Plant, this facility recycles 99.3% of its leftover steel, plastic, wood, paper and glass, and then ships the other 0.7% to be incinerated and used to generate electricity by the city of Indianapolis. Absolutely everything is reused and recycled.
Here are 10 Tips for "Thinking Green" from Patriot Subaru
Sourced from The Sierra Club
1. Be bright about light
Make it a habit to turn off the lights when you're leaving any room for 15 minutes or more. Use Energy Star-rated light bulbs and fixtures, which use at least two-thirds less energy than regular lighting, and install timers or motion sensors that automatically shut off lights when they're not needed.
2. Maximize computer efficiency
Turn off your computer-and the power strip it's plugged into-when you leave for the day. Otherwise, you're still burning energy even if you're not burning the midnight oil. (Check with your IT department to make sure the computer doesn't need to be on to run backups or other maintenance.) During the day, setting your computer to go to sleep automatically during short breaks can cut energy use by 70 percent. Remember, screen savers don't save energy.
3. Print smarter
Make it a habit to print on both sides or use the back side of old documents for faxes, scrap paper, or drafts. Avoid color printing and print in draft mode whenever feasible.  Buy chlorine-free paper with a higher percentage of post-consumer recycled content. Also consider switching to a lighter stock of paper or alternatives made from bamboo, hemp, organic cotton, or kenaf. Recycle toner and ink cartridges and buy remanufactured ones. According to Office Depot, each remanufactured toner cartridge "keeps approximately 2.5 pounds of metal and plastic out of landfills?and conserves about a half gallon of oil."
4. Go paperless when possible
Think before you print: could this be read or stored online instead? When you receive unwanted catalogs, newsletters, magazines, or junk mail, request to be removed from the mailing list before you recycle the item. Post employee manuals and similar materials online, rather than distribute print copies. They're easier to update that way too.
5. Ramp up your recycling
Make it a habit to recycle everything your company collects. Just about any kind of paper you would encounter in an office, including fax paper, envelopes, and junk mail, can be recycled. So can your old cell phone, PDA, or pager. Place recycling bins in accessible, high-traffic areas and provide clear information about what can and can not be recycled.
6. Close the loop
Purchase office supplies and furniture made from recycled materials.
7. Watch what (and how) you eat
Bring your own mug and dishware for those meals you eat at the office.
Make it a policy to provide reusable dishes, silverware, and glasses. Switch to Fair Trade and organic coffee and tea, and buy as much organic and local food as possible for parties and other events. Provide filtered drinking water to reduce bottled-water waste.
8. Rethink your travel
Invest in videoconferencing and other technological solutions that can reduce the amount of employee travel.
9. Reconsider your commute
Carpool, bike, or take transit to work, and/or telecommute when possible. Organize an office  carpool board.
10. Create a healthy office environment
Make it a habit to use nontoxic cleaning products. Brighten up your cubicle with plants, which absorb indoor pollution.Buy furniture, carpeting, and paint that are free of volatile organic compounds (VOCs) and won't off-gas toxic chemicals.