Annually between mid-Nov and New Years, Subaru donates $250 to charity for every new Subaru sold. The customer selects from four national and one local charity to be the recipient.  Over the past five years, Patriot Subaru of North Attleboro has been able to donate $157,000 to local charities through this amazing Share The Love Event!  Here's a summary of our partnerships to date.
Patriot Subaru North Attleboro Partners with Share The Magic Foundation / Malcolm Mitchell "Read With Malcolm"

Patriot Subaru teamed up with Malcolm Mitchel's charity, "Read With Malcolm", a youth literacy initiative supported by the Share the Magic Foundation, dedicated to promoting the benefits of reading and book ownership among students in Title I schools and under-served communities. It springs from Malcolm's own personal story, and is enriching young lives across the country.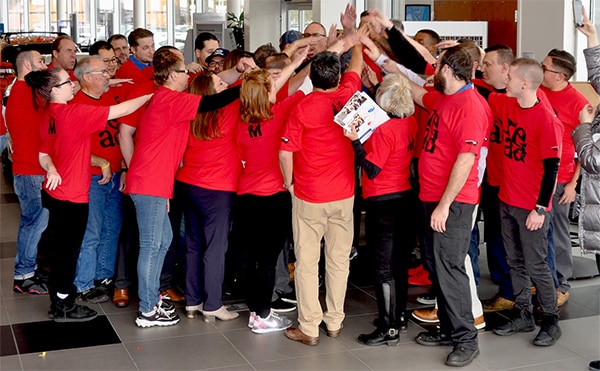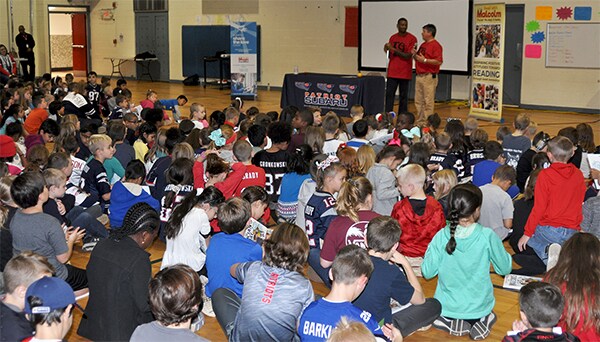 Patriot Subaru purchased 400 copies of Malcolm's book "The Magician's Hat", and distributed them to students at the Amvet Boulevard Elementary School.


2019: Patriot Subaru Share The Love Earns $56,038 for "Read With Malcolm"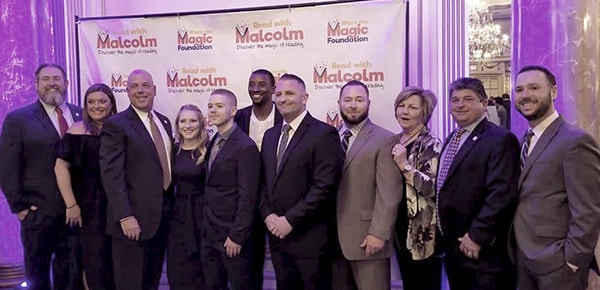 2018: Patriot Subaru Share The Love Earns $28,085 for "Read With Malcolm"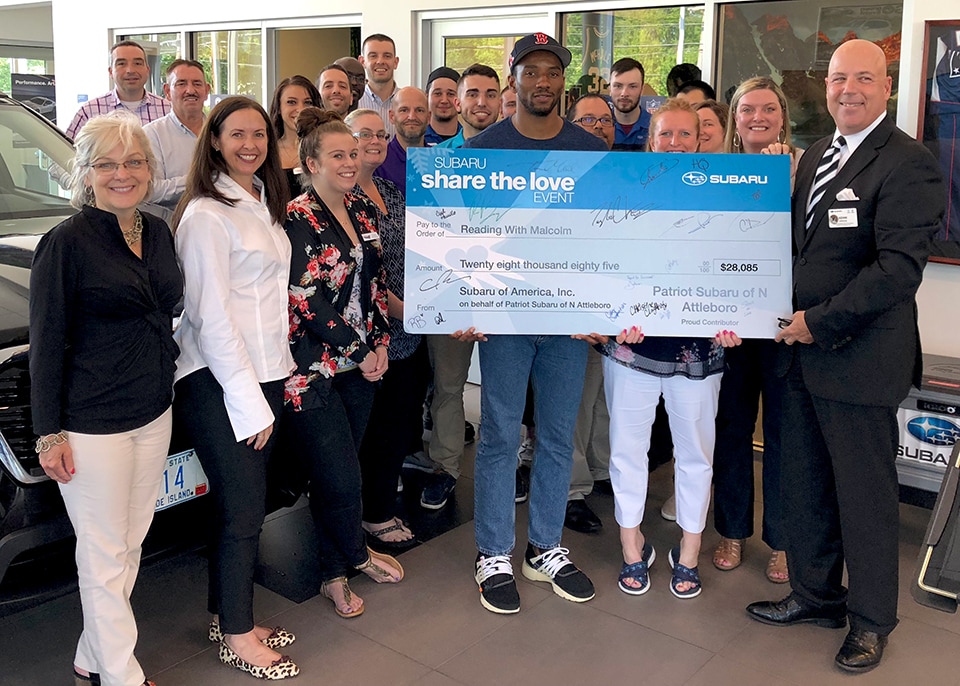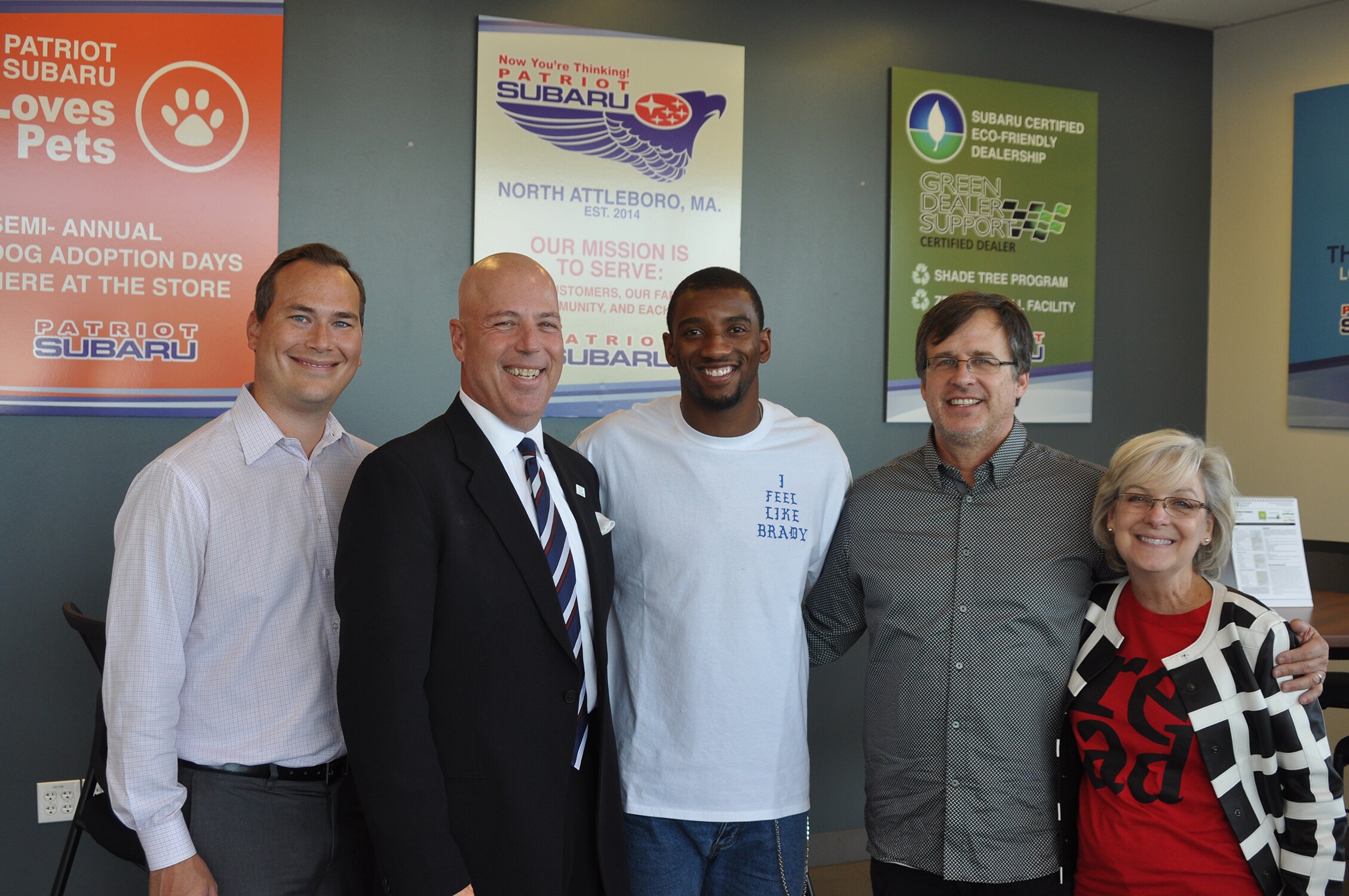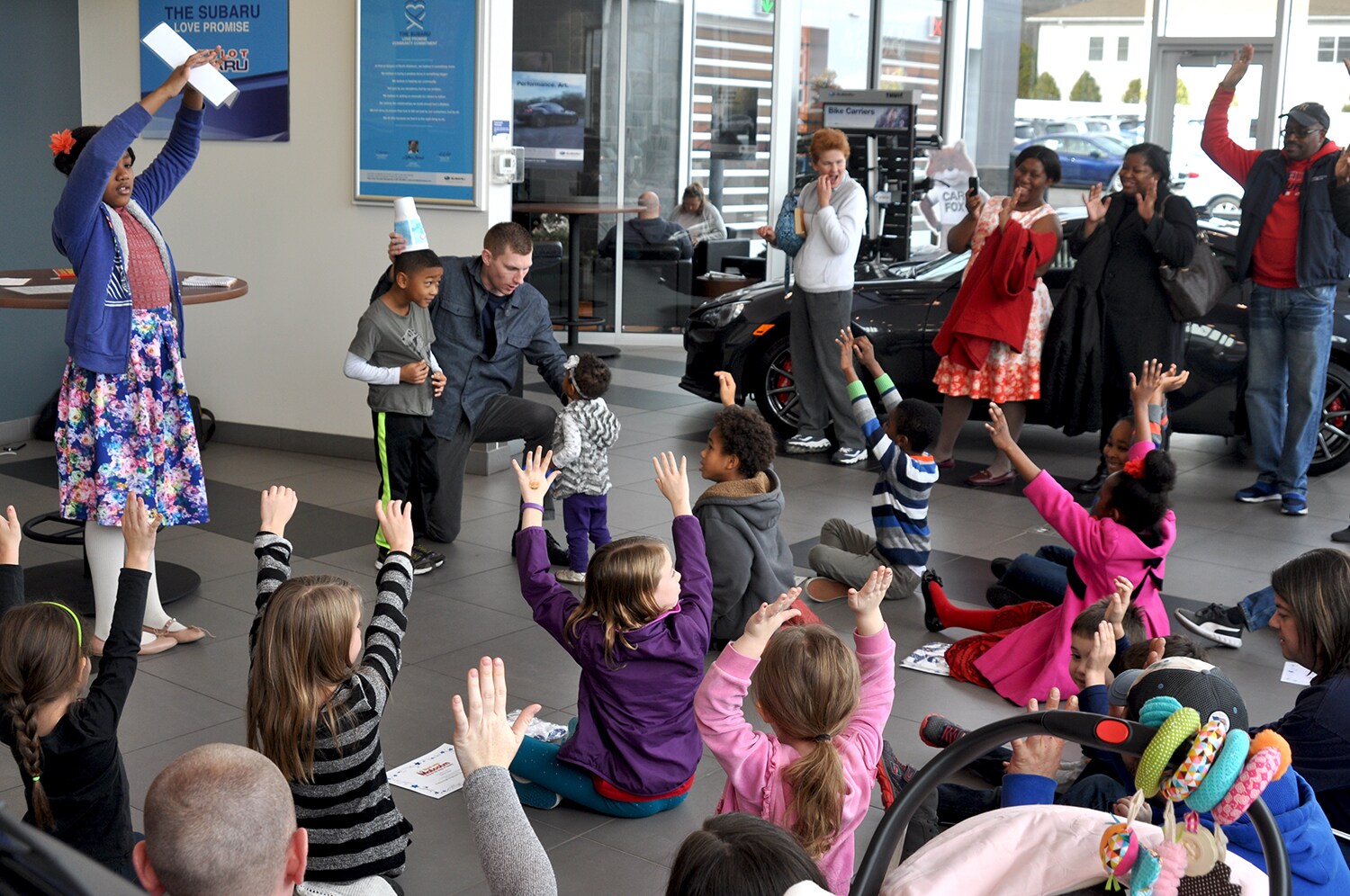 In addition to the Subaru $250,  Patriot Subaru added $50 every time Malcolm's charity was selected, bringing the donation to Read With Malcolm to $300 for every new Subaru sold or leased at Patriot Subaru during the Event! 

Patriots.com Magician John Duke Logan visited Patriot Subaru for a special magic event!  We honored
students from the Foxborough Regional Charter School, recognizing their reading achievements in the classroom and at home. John entertained, then read Malcolm's book, "The Magician's Hat".   Pizza and cake followed, and magically disappeared!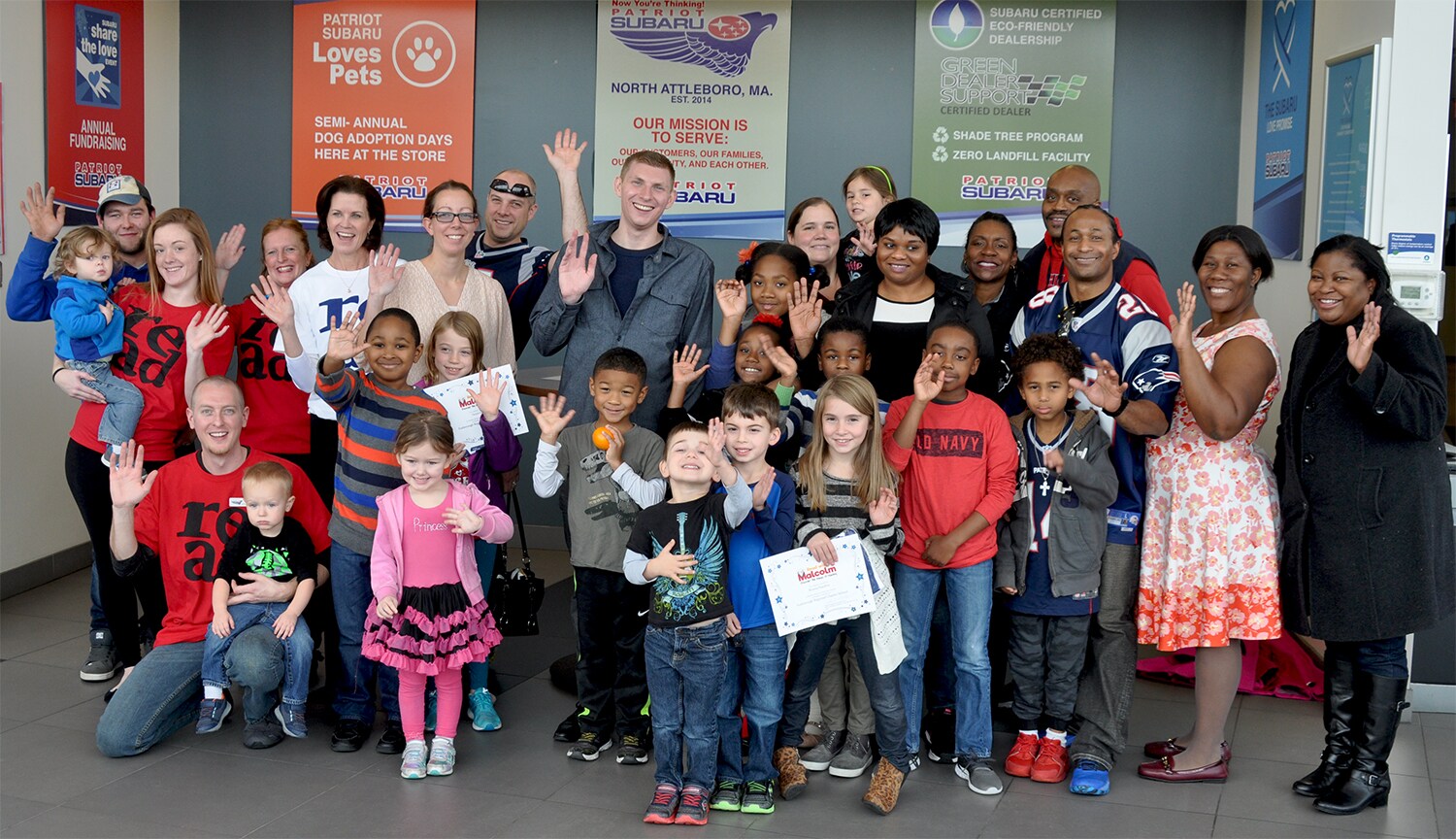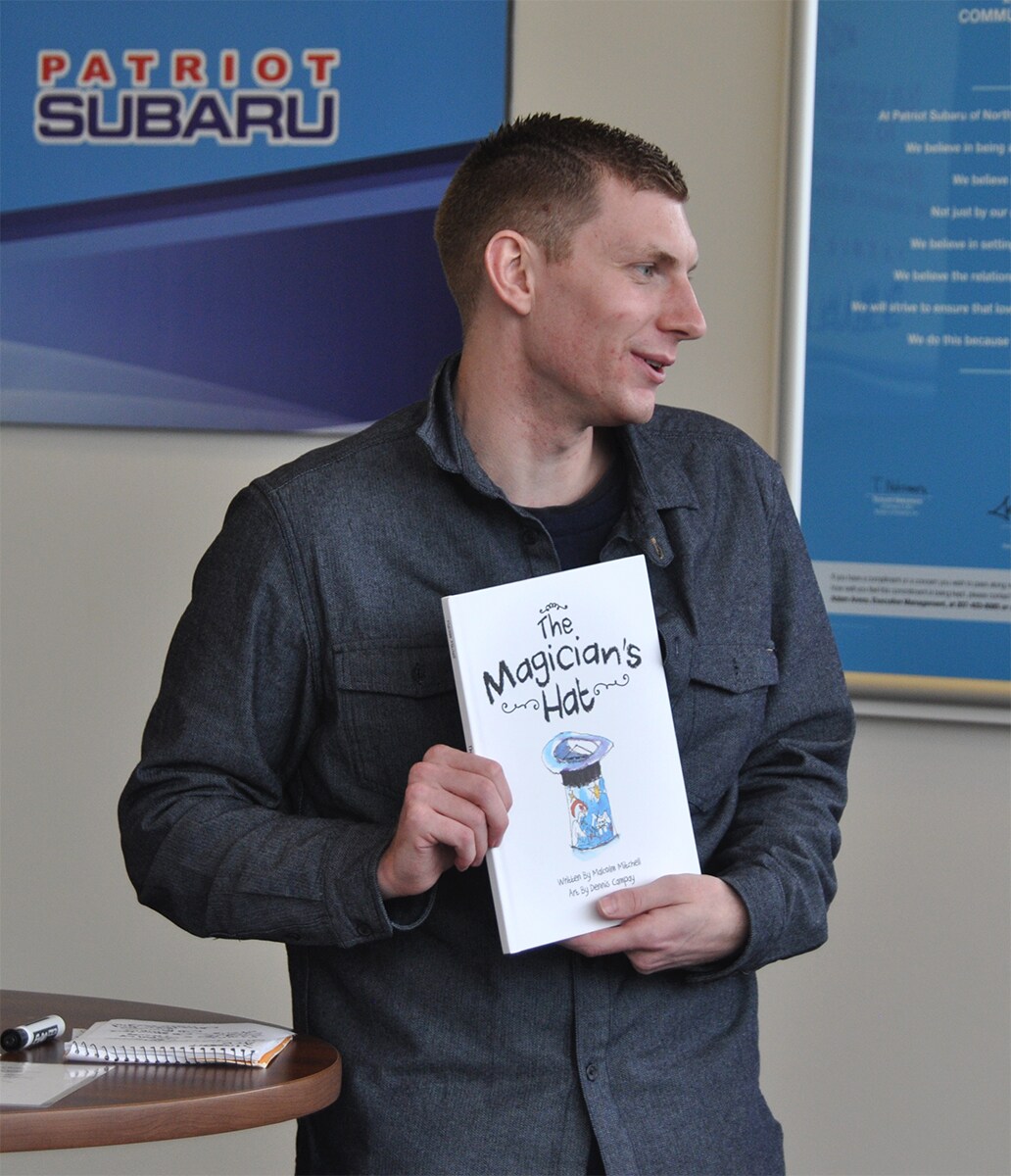 Malcolm Mitchell visited with the associates of Patriot Subaru!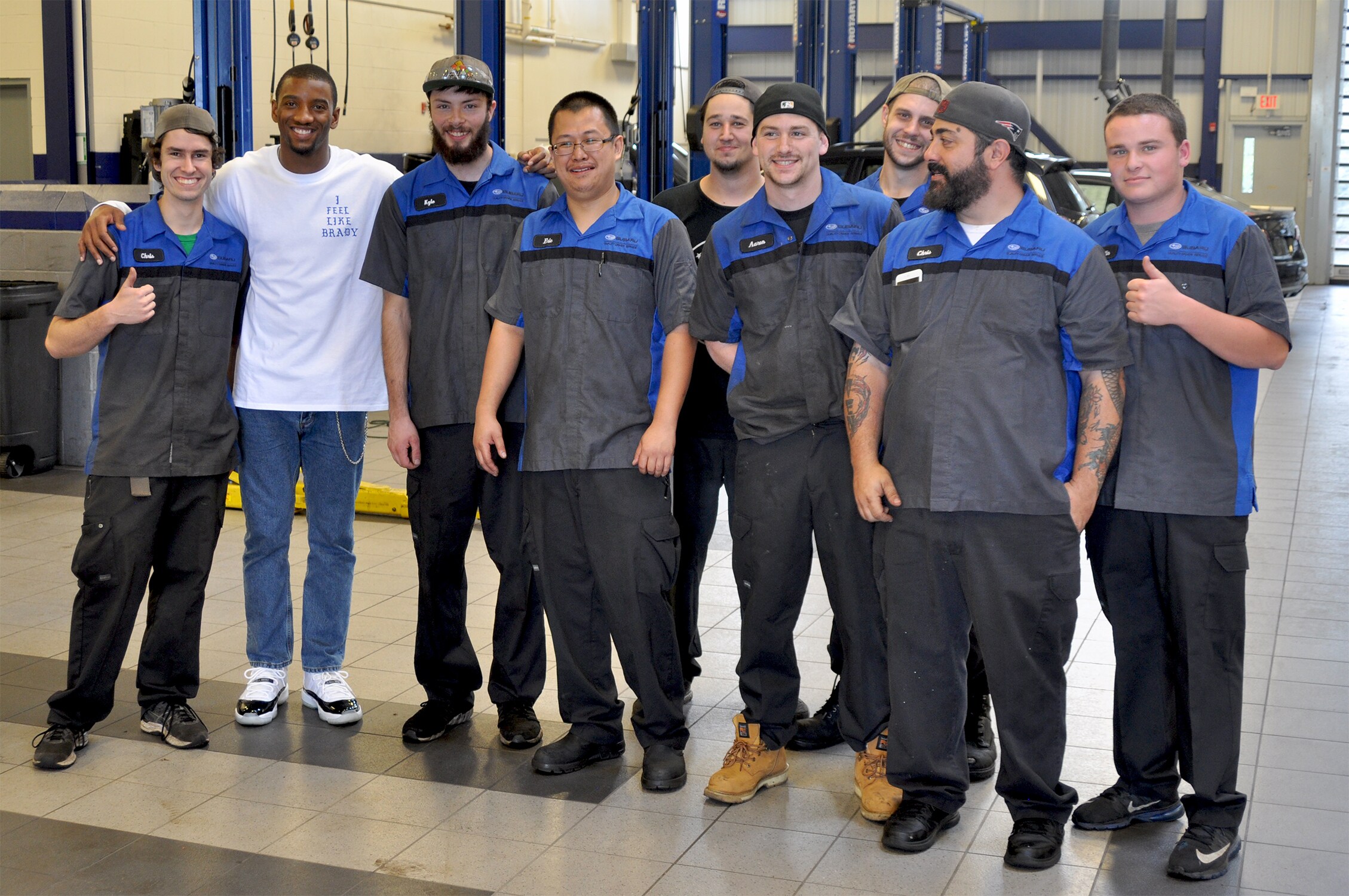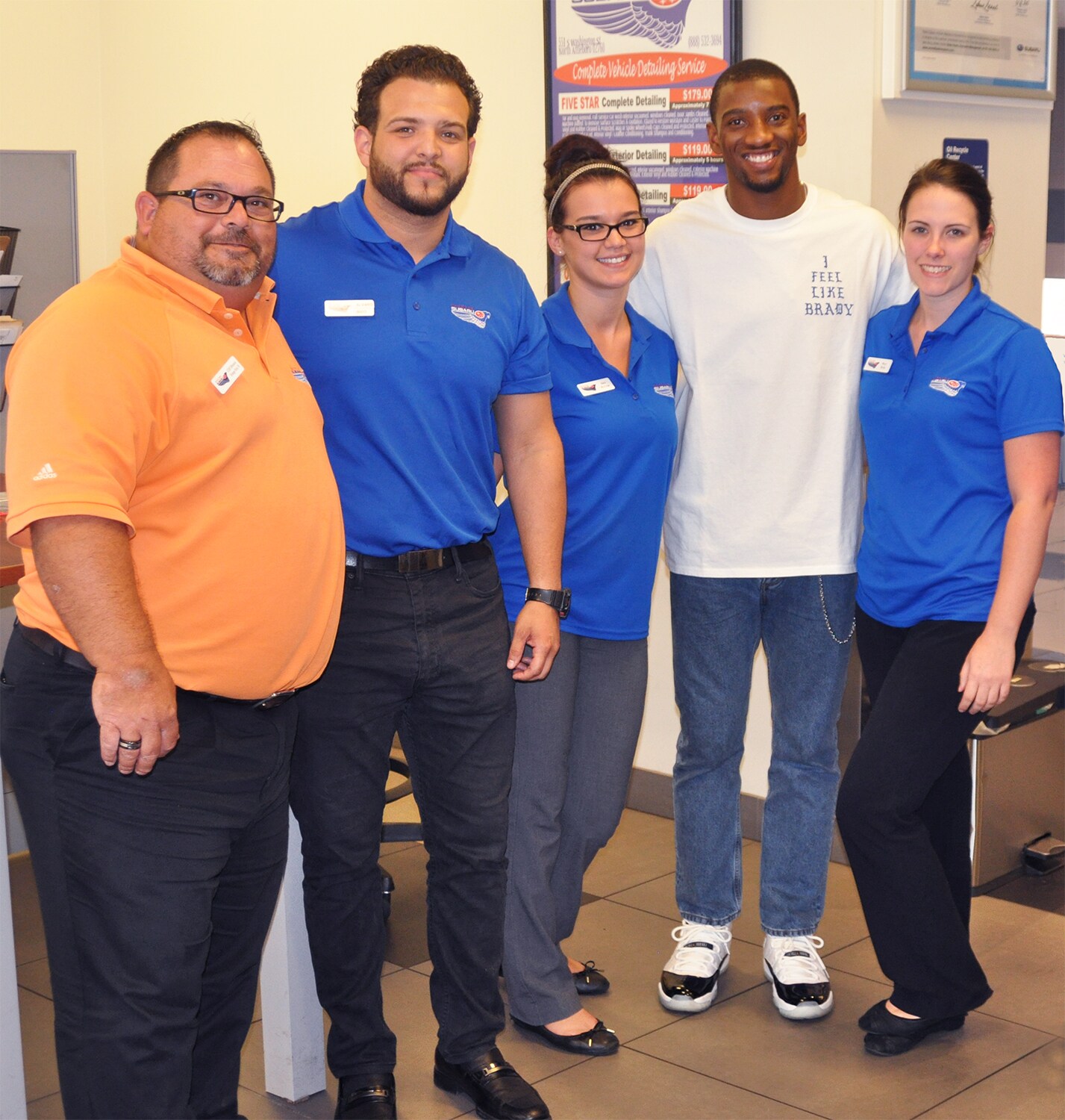 _______________________________________

2016-2017
Patriot Subaru North Attleboro Partners: RIFB
Rhode Island Community Food Bank
Patriot Subaru Share The Love Donation:
$30,000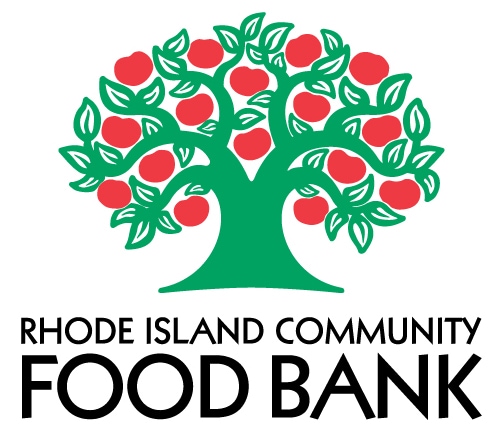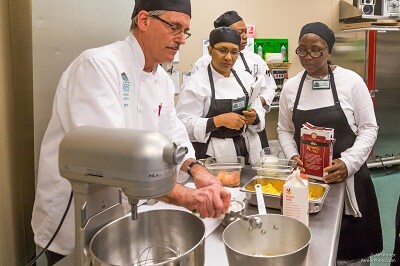 The Rhode Island Community Food Bank visited Patriot Subaru serving delicious samples of recipes used in the nutritional education program.  The Community Kitchen Culinary Job Training program is a unique service in addition to the Bank's core work of distributing food to people in need.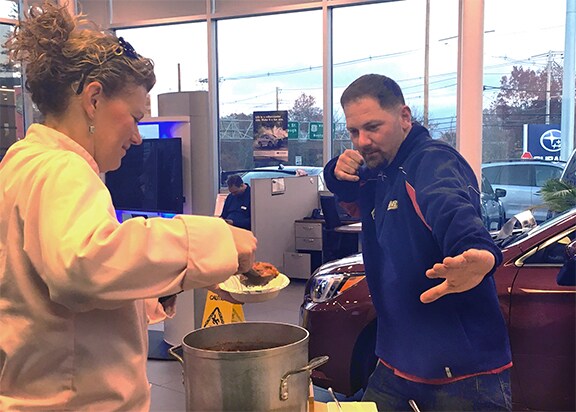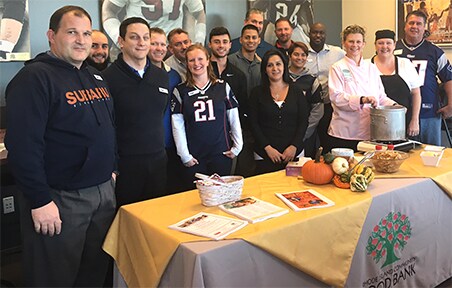 Patriot Subaru proudly presented a check for $30,000 to RIFB, which will enable them to provide 90,000 meals to those in need. Great job everyone!  Patriot augmented Share The Love by adding $50 to every customer who selected the RIFB to Subaru's donation of $250, for a total of $300 per customer.  It adds up!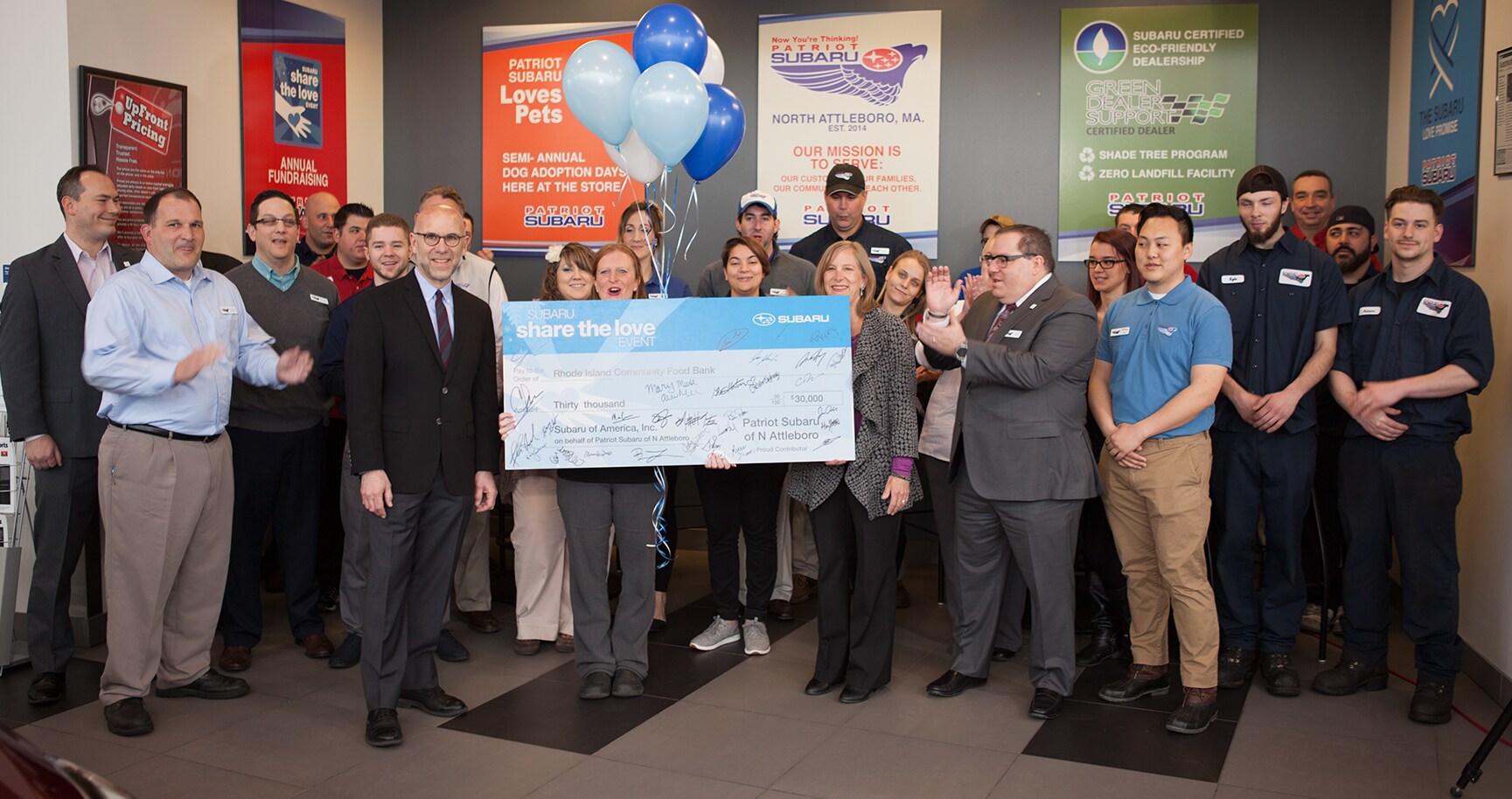 ***********************************************************************

2015-2016  Patriot Subaru North Attleboro Partners: S.A.D.D 

"Students Against Destructive Decisions"
Patriot Subaru Share The Love Donation: $20,000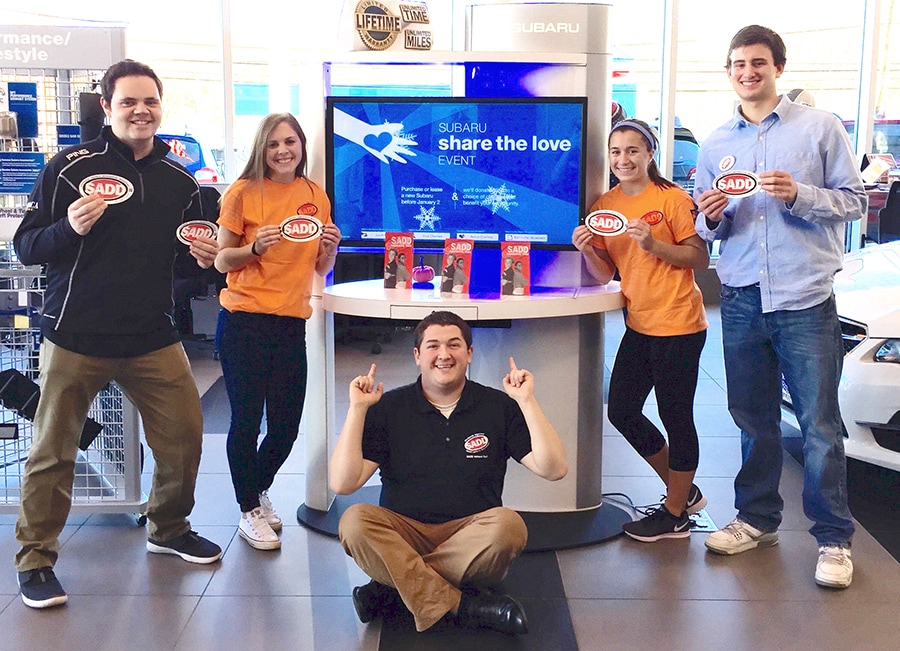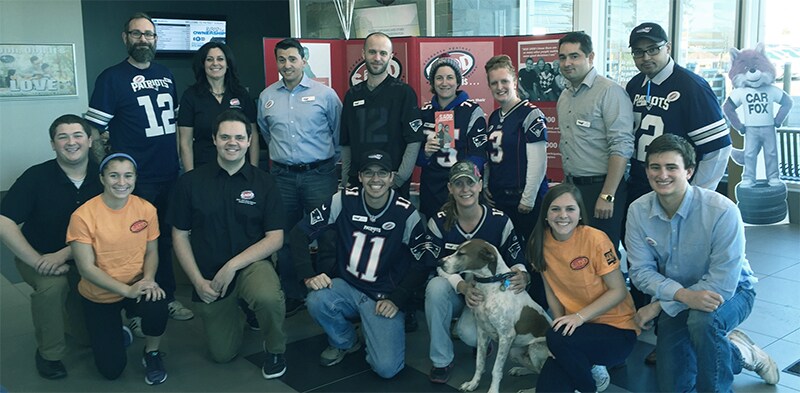 In our second year, Patriot Subaru of North Attleboro teamed up with SADD, whose
mission is to empower young people to successfully confront the risks and pressures that challenge them throughout their daily lives. 
Founded in 1981 in Marlborough, MA, SADD is now a national organization with chapters in all 50 states.

SADD hosted a special program at the store, testing customers and associates with a set of "Fatal Vision" goggles that simulates impaired driving. In addition, the participating students shared tips for parents as well as teens for better ways to communicate with each other.  This included the Parent-Teen "Contract For Life", and how it can help set guidelines.
When the Event concluded, Patriot was able to present a 2015-2016 Share The Love check for $20,000 to SADD. The presentation was  attended by store associates, SADD executives, North Attleboro High School students, and Subaru of New England regional managers.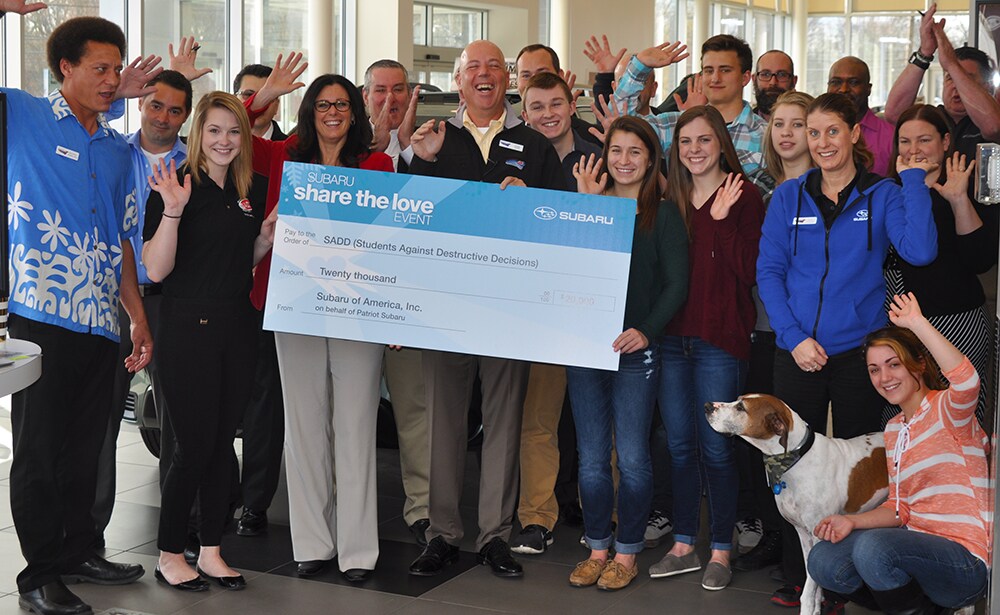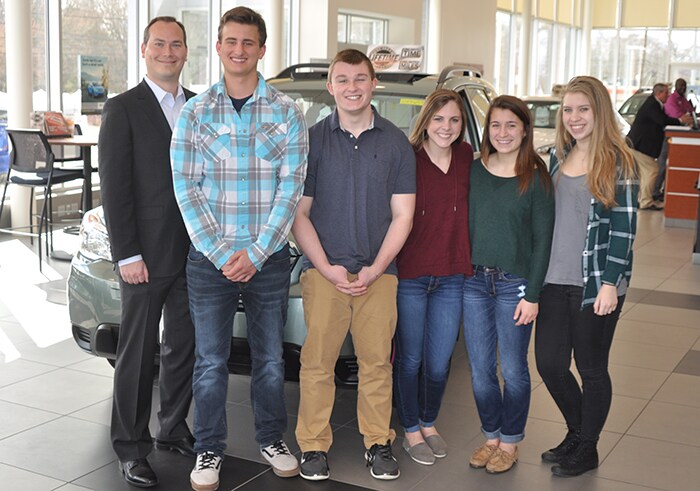 Dawn Teixeira, SADD's National President and CEO was delighted with the support. "The opportunity to be a part of the Subaru Share The Love Event has been one more great way to help us raise awareness in the community, and to support the students who make the SADD program a success." said Teixeira.  
Patriot Subaru owner and president Adam Arens noted, "We thank our customers who had a choice of many fine national charities, and opted to select our local organization. It speaks to the appreciation people around here have for the programs SADD provides."


In the pic featuring six people, we have on the left Ken Scanzio, Subaru of New England District Manager, an alumnus of North Attleboro High School. joined by five current students from the North Attleboro HS - S.A.A.D. chapter,  Brian Kleczkowski, Kyle Johnson,Taylor O'Brien, Isabelle Renzi, and Gabby Pothier.


On a related note, sales associate Maceo Johnson teamed up with the SADD chapter at Bishop Feehan High, to present programs on distracted driving.  Patriot purchased  "vision-impaired goggles" for the school, that simulate the effects of buzzed or impaired driving to teach students the danger. Read more about it in Love Promise.

For additional information on the 2015-2016 SADD program, see our original Event Page.