Are you a recent, or about to be a college graduate?   Congratulations!  Subaru supports your achievement with an A+ program to help new college graduates get a great deal on a purchase or lease of a new Subaru! Visit Patriot Subaru in North Attleboro, MA for all the details!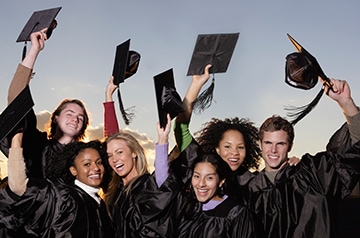 Remember, one of the best parts of this program is the opportunity to establish and build credit. Your degree says to Subaru that you're ambitious and a go-getter, so they're investing in you with special financing.

FAQ'S......
Which cars are included?
  This program is for new Subaru models, which includes demos.
Am I eligible?
  You must be graduating within 6 months or have graduated within up to 24 months from date of application with a Bachelor's, Master's, or Associate Degree from an accredited 2 or 4 year U.S. College, Graduate School (including Doctorate) or Nursing School.
What do I need to show to verify that I am eligible?
If you are a student graduating within the next 6 months, either:
A letter from the registrar's office stating graduation date and type of degree.
A copy of final transcript that states type of degree and date earned.
For the applicant who has graduated within 24 months from date of application:
A diploma.
No derogatory credit history, past or present.
What about a joint application?
For joint applications, both applicants must meet all program eligibility requirements.
Program eligibility is subject to Subaru Motor Finance's review of documentation and verification before funding; additional documentation may be required.
What about Employment, or Income?
You need to have proof of employment and income. If employment has not yet started, a letter from the future employer that shows a start date within 90 days of the current date and salary is required, along with verbal verification from current or future employer.
What about the terms?
This program is for new retail purchases, and new leases.
Maximum Terms: 72 months on Retail and 48 months on Lease
Maximum Amount Financed or Maximum Capitalized Cost is $25,000
Payment to Income cannot exceed 15% of gross monthly income.
Applicants who have no FICO score will qualify under a Tier 4 rate parameter on approved credit.
What else do I need to know about the financing?
Standard rates apply.May be used with applicable Subaru Motors Finance Manufacturer special programs. See current program sheet for details and markup guidelines.>
1 The College Grad Program cannot be used in conjunction with the Mobility Equipped Program. Not available on contracts submitted to Chase Custom Finance.
Note: All applications subject to credit approval by JPMorgan Chase Bank, N.A. through Subaru Motors Finance (SMF) and programs may change at any time. Not all programs available in all states. All financing on approved credit.
Information provided by Subaru.com and available through Subaru Motors Financing.
What do I do now?
Visit us at Patriot Subaru in North Attleboro, and we'll be happy to answer any other questions you may have, and assist you any way we can to help you into a new Subaru! Talk to our
Finance Department
today!