Subaru Share The Love Event
at Patriot Subaru North Attleboro
Earns $22,702 for The Andruzzi Foundation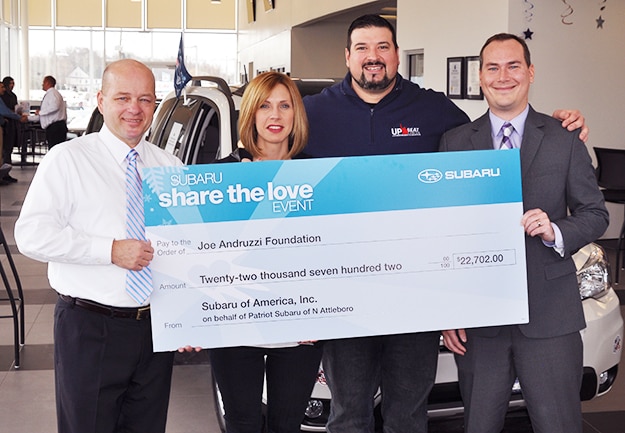 L-R Don McEwen/General Manager Patriot Subaru, Jen Andruzzi, Joe Andruzzi,
and Ken Scanzio/Subaru of New England with the "big check".
And here's how it all happened!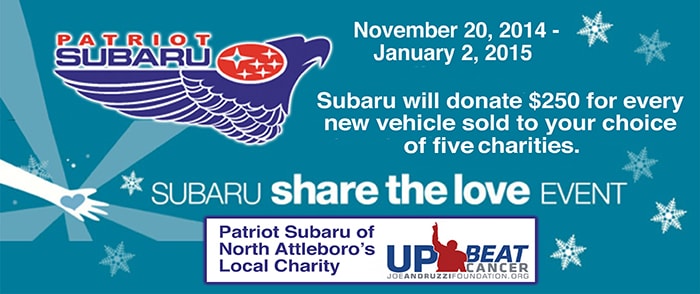 The 7th Annual  Subaru "Share The Love" launches again this holiday season with great excitement and new goals.  This year, Subaru will donate up to $15 million dollars.  This will push the 7 year total to $50 million!
Subaru donated $250 for every new Subaru sold between November 20, 2014 and January 2, 2015.  The choice of where that $250 went is decided by the customer, selecting one of five charities.  The participating charities this season were:
ASPCA
Make-A-Wish
Meals on Wheels Association of America
National Park Foundation
One Local Hometown Charity selected by the dealer. For Patriot Subaru in North Attleboro, that charity is the Joe Andruzzi Foundation.
The Joe Andruzzi Foundation is committed to providing help, hope, and a reason to smile for cancer patients and their families by contributing financial and emotional support when it is needed the most.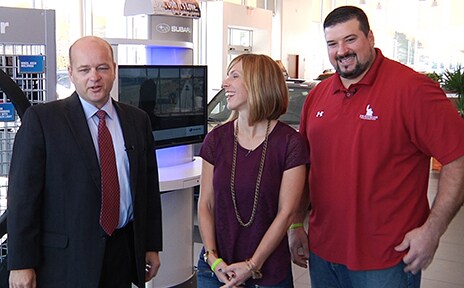 Patriot Subaru GM, Don McEwen, with Jen and Joe Andruzzi
at the North Attleboro store during the filming of a TV spot to support the
Share The Love Program!
Patriot Subaru opened its Maine store in 2003, and over the past 10+ years has been engaged with a wide variety of community programs. Annual donations exceeding $100,000, in addition to hundreds of hours of volunteer efforts with charity, educational, animal, and community programs. Our North Attleboro, MA store opened at the end of July 2014, and we are committed to being equally involved and active as we have been in Maine.
We thank you for helping us Share The Love!
We had a great "team breakfast" with Joe and Jen Andruzzi!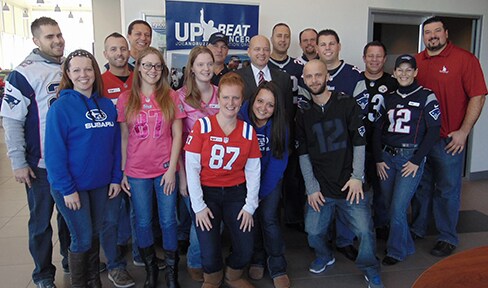 The mission of Preble Street is to provide accessible barrier-free services to empower people experiencing problems with homelessness, housing, hunger, and poverty, and to advocate for solutions to these problems. - See more at: //www.preblestreet.org/mission.php#sthash.3wURU2TR.dpuf

Congrats to Derek Curtis (in hat!) the winner of the Joe Andruzzi autographed football.  Derek receives the handoff from Don McEwen, General Manager, and a few of the sales associates - Jim Kelly,
Chad Atallah, Alison LeJeune, Adam Park,Elizabeth Husted, and Mace'o Johnson.